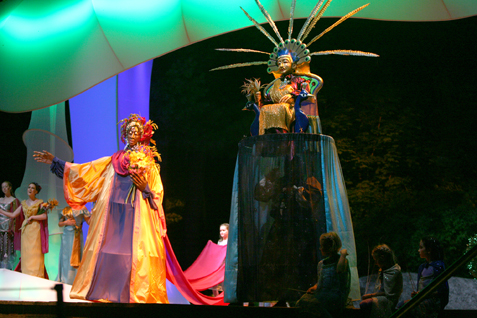 The Tempest at the Freeport Shakespeare Festival
"Out, out, brief candle!" (I know, wrong play, but apt application!)
The giant puppets of Sycorax, Ceres and Juno, created for the Freeport Shakespeare Festival's inaugural production of The Tempest, are back in our studio, pondering viable career moves. Unlike most of our creations, which have long lives in touring shows over many years, the Tempest puppets were specially created for a shockingly short 4-day run. Now, eager as ever to be on stage, they are crafting resumes, sending out headshots, and hoping for calls from that rumored-to-have-been-present-on-opening-night NY agent.
The performances were certainly successful, attracting over 2,500 people to the dusk-shrouded, vibrantly-lit stage at L.L Bean's Discovery Park. And the collaborative process with Julie George-Carlson, Artistic Director of the Festival and director of The Tempest, went very smoothly (notwithstanding her opening-afternoon tumble and resulting broken ankle!) Reviews (see below) were very positive. And while we see no place for puppets in next year's Twelfth Night, we look forward to settling down on the grass next summer for another beautifully produced Shakespeare play.
As designers/builders, we really enjoyed the time spent in our studio, sculpting faces and hands, drafting patterns for ten-foot tall, Size-600 dresses, and crafting figures that could be animated by performers who were strapped to backpacks inside the characters. We also learned many new techniques that will be useful in creating future figures.
So — the revels may be over, but the puppets will live on!