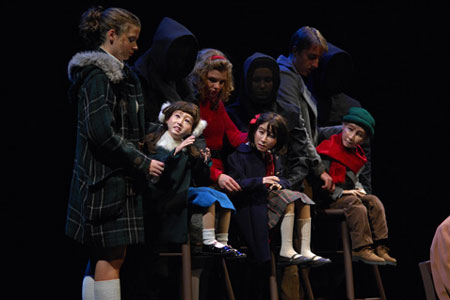 Puppets Commissioned by Colby College
Paula Vogel's intense and compact one-act play, The Long Christmas Ride Home was produced at the Strider Theater at Colby College. While we're not without pride about our own involvement in the production – creating the puppets and training puppeteers – we're really writing to celebrate the accomplishments of everyone involved in the show. A challenging text that calls for three bunraku-style puppet figures, The Long Christmas Ride Home demands huge commitment from its cast – as actors and puppeteers – and they delivered unstintingly in a beautiful production under the direction of Colby theater professor Todd Coulter.
Rent our custom made bunraku puppets of Stephen, Claire, and Rebecca for your production! Contact us today to get the ball rolling!