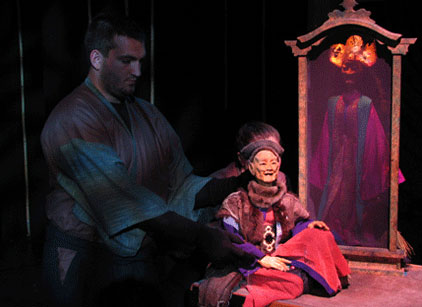 Dragon's Daughter: 1997-2004, and Re-staged at Bates College, 2012
Set upon an altar in an ancient temple, Dragon's Daughter weaves exquisite carved puppets with dynamic masked dance and storytelling in a production that is both solemn and lyrical. The story follows young Gum Lin's departure from her aged grandfather, the trials she experiences on her quest to find the secret lake, her perilous encounter with the Dragon of Greed — and her friendship with his magical daughter.
"Dragon's Daughter is universal, timeless, ageless. Adults will be transformed to a child's sense of wonder. Yet the approach to the performance is immensely sophisticated, with robed priestesses clearly manipulating the pliant puppets. In the best tradition of the ages, this is theatre of the senses, of ritual and wisdom, drama and dance, and a story both subtle and compelling that will reveal itself long after the lights go on."
Portland Press Herald, Portland, ME
Cultural Fusion Residency at Bates College
Ten students whose majors included Economics, Religion, Anthropology, Japanese Language, and of course Theater came together with a willingness to try something new. A month later they found themselves performing Bunraku-style puppetry, dancing in Noh masks, and singing in harmony!
FST's residency in "East-West Fusion Theater" culminated with four successful, well-attended performances of Dragon's Daughter at Bates' Gannet Theater May 20-22. The performance had originally been developed by FST for a similar residency at Trinity College, and was adapted to the interests and experience of the Bates students. Students also read and discussed articles on Japanese theater forms, and researched contemporary western puppet artists as part of the course.