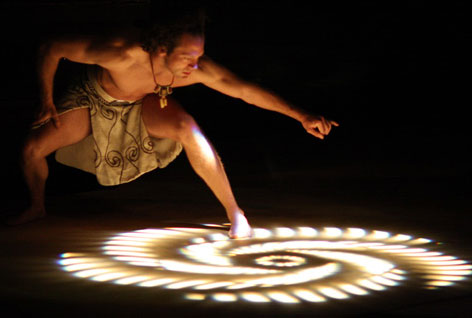 Gilgamesh: A collaboration with Heartwood Theater
For Griff Braley, Artistic Director of Heartwood Theater (Newcastle, Maine), it wasn't enough to simply adapt the 4,500-year-old Babylonian epic of Gilgamesh to the stage. Griff became fascinated with George Smith, an unschooled British bank note engraver who, on his lunch hours, first deciphered the cuneiform stone shards he found at the British Museum — and a play that would encompass both stories began to form in Griff's mind.
This would clearly call for some radically original staging concepts - which made Griff think of FST! Although we regularly collaborate with individual artists, this was the first time we'd been invited to bring our artistry to another company's project. The relationship between our two companies proved to be stimulating and fruitful; the sum was greater than the parts. Our companies' missions and visions are very different, but the mythic, larger-than-life nature of the Gilgamesh epic gave us common ground artistically.
The production of Gilgamesh enjoyed seven well-attended performances from May 2-11 at the Parker Poe Theater on the campus of Lincoln Academy in Newcastle.
Gilgamesh also gave us the rewarding opportunity to collaborate with artist George Mason, musicians Shamou and Andrea Goodman, choreographer Sarah McCormick, and a cast of delightful performers.
When the dust settled after the workshop production closed, the creative staff of both groups felt we'd hit a rich vein. We all acknowledge Gilgamesh to be a work-in-progress, with some sublime moments as well plenty of reworking to be done. Heartwood is seeking funding for a Phase Two of Gilgamesh, and they have kindly invited us to participate in that endeavor as well. We'd both like to see the new work reach its full potential-- and we hope to get there as a team.