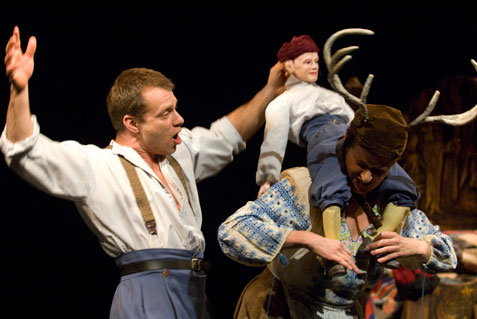 Peer Gynt: A collaboration with Portland Stage Company
Anita Stewart, Artistic Director of Portland Stage, first approached FST in the summer of 2007 with the idea of co-visioning Peer Gynt. Anita had long desired to stage a production as rangy and ambitious as Peer, and this felt to her the right moment for PSC. Says Anita, "It's fantastic to think about collaborating with local artists whom I hold in great esteem. Watching Figures of Speech Theatre's work, I've learned that having a human 'operator' give life to various inanimate objects adds a level of imagination, of metaphor — which feels absolutely appropriate to a piece like Peer Gynt."
Creative staff from both PSC and FST, with guest artist Michael Rafkin, met for six months to work on re-shaping the many versions of the script and developing a conceptual framework for the piece. We had an opportunity to try out some of our ideas during PSC's Little Festival of the Unexpected in May 2008, which was very instructive. We arrived at a collective vision of how each scene should look and feel, and an internal logic for when puppets (vs. actors) would be used to amplify the drama, then we set about creating the 15 puppet figures for the piece - some of which were bigger than we'd ever attempted, and other that had to be worked under water!
Peer Gynt, featuring an ensemble of actors, puppets and a spectrum of other stage media, ran at Portland Stage from January 22 through February 22, 2009.