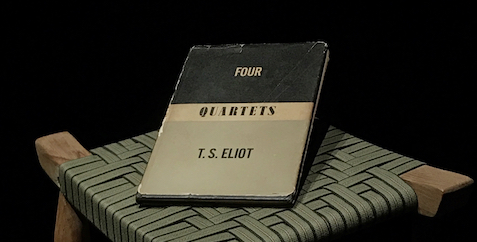 T.S. Eliot's Four Quartets - 2018 Maine Library Tour
February 15 at Merrill Memorial Library, Yarmouth
April 24 at York Public Library
July 17 at Belfast Free Library
July 27 at Boothbay Harbor Memorial Library
FST is currently scheduling additional dates for a tour to Maine Libraries in 2018, with dates already scheduled in Waldo, Hancock, York, Lincoln & Cumberland counties.
We encourage interested libraries to call us at 207-865-6355.
---
John Farrell memorized T.S. Eliot's Four Quartets –all eight hundred and ninety-one lines of it– in 2011 and now recites this poetic masterwork from memory. The recitation, which lasts one hour and twenty minutes without intermission, affords the audience the opportunity to immerse themselves in Eliot's language for a truly unique, meditative experience.
This tour of Four Quartets has received generous support from private foundations, a Maine Theater Fund Grant from the Maine Community Foundation, and an Arts & Humanities Grant awarded by the Maine Humanities Council and the Maine Arts Commission, an independent state agency supported by the National Endowment for the Arts.